Innovator & Change Maker Event Designer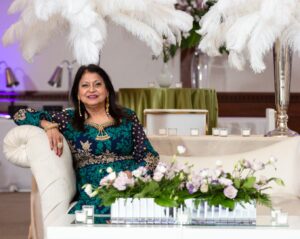 MIRAJ's founder, Rita N. Singh, has brought some of the most breakthrough and out of the box ideas and thought processes to the event industry.  She offers a unique combination of innovative event planning and design with seasoned entrepreneurial skills.  Her extensive and long lasting relationships and collaboration with top tier suppliers adds enduring value to each event. From sophisticated soirees to culturally infused celebrations, Rita ensures that all of her social and corporate events are executed with a high degree of commitment, professionalism and uniqueness.
Rita has combined her Entrepreneurial and Leadership skills into the design world.  She has created a world-class excellence, through her dynamic strategic thinking, vision, execution strategy and project management skills. Rita has reengineered the event planning process and has created global resources through alliances, partnerships and collaboration. "To be successful in the event industry, having only event design skills is not enough to achieve the sustainable excellence in all aspects of performance; the internal capabilities need to be aligned with external resources and environment" says, Rita.
She has been a leading business figure regionally, nationally and globally and has received numerous accolades, awards and testimonials for her excellence in leadership.